2023 Convention Information
Pre-registration for the 2023 AK Bar Convention is closed.  There is limited space available, please arrive early to register as a walk-in.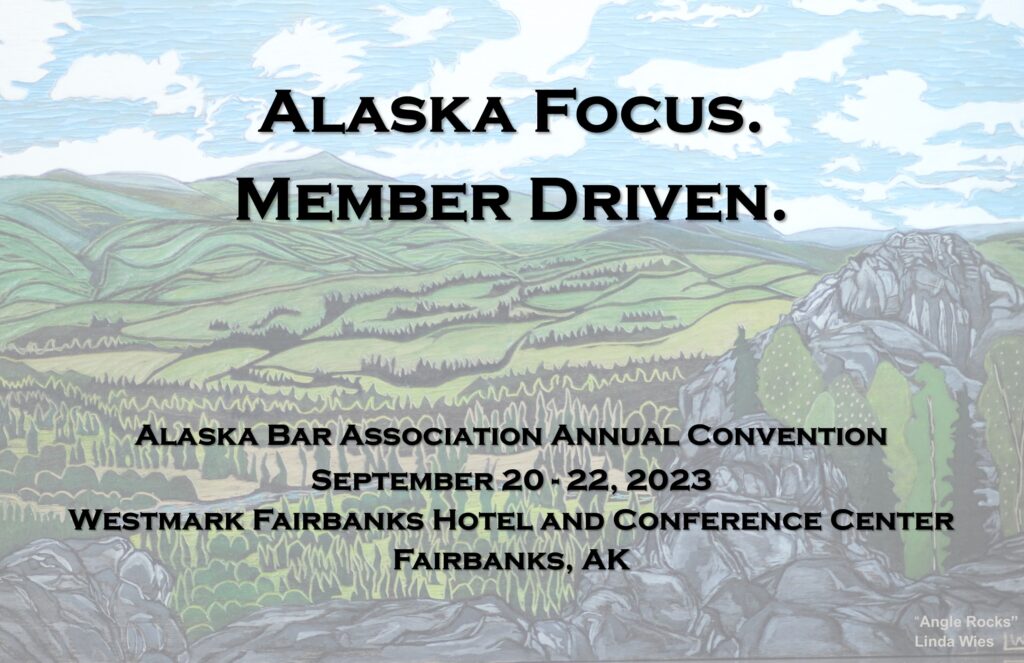 Keynote Performance: Makin' Cake with Dasha Kelly Hamilton
Touring nationally, Makin' Cake is a spoken word performance that slices into American history exploring race, culture and class. The show serves up an experience and a conversation about equity in America.  Part history lesson, part social science revelation, "Makin' Cake" is a short story about America's sweet tooth and pathway to salvation.
Dasha Kelly Hamilton is a writer, performance artist, curator and facilitator. Ultimately, she's a creative change agent, leveraging the creative process toward human and social wellness.  Dasha is the 2020-2022 Poet Laureate for the State of Wisconsin as well as a National Rubinger Fellow and a National Laureate Fellow with the American Academy of Poets.
2023 Annual Convention Agenda
Ticketed Events
The 2023 Alaska Bar Convention provides a total of 8.0 General CLE credits and 3.0 Ethics credits.  CLE topics include our Keynote Presentation: Makin' Cake with Dasha Kelly Hamilton, an update on ICWA and Haaland v. Brackeen by featured speaker Erin Dougherty Lynch, our longtime convention staples Dean Erwin Chemerinsky and Professor Laurie Levinson, and more.
The Convention also includes social events such as a welcome reception, awards reception, the Alaska Bar Association's Annual Meeting, and hospitality suites hosted by the Tanana Valley Bar Association.
The Annual Bar Convention allows our members, many of whom do not live on the road system, the opportunity to meet in-person with colleagues in educational as well as informal settings, fostering the collegial atmosphere that has long characterized our bar.  To prioritize the collegial in-person atmosphere, we will not be recording or streaming the 2023 Annual Bar Convention.
Pre-registration required. Pre-registration is open until 5 PM September 8. Registration after September 8 will be considered as walk-ins and will be handled at the convention.
$300…………………………….. 2 Day access to all CLEs
$225 ………………………………. 1 Day access (Thursday or Friday)
$50………………………………. Printed course materials
$50………………………………….. Late Fee; registration after August 23, 2023
TICKETED EVENTS
Opening Welcome Reception …………………………….$20
Wednesday, September 20, 6:00 p.m.
Venue, 519 1st Ave, Fairbanks, AK 99701
Awards Reception………………………………. $0 (Price included in registration fee)
Guest Fee……………………………….$15 
Thursday, September 21, 5:30 p.m.
Westmark Gold Room
CONVENTION CANCELLATION POLICY
There is a $50 cancellation fee on your registration. No refund of registration fees can be made for cancellations after August 31, 2023.
COMPANION FARE
New lawyers (admitted to the Alaska Bar five years or less) can pair with another new lawyer OR a more experienced lawyer to attend convention CLEs by paying a $25 Companion Fare, when registering together with a lawyer paying the full registration fee. Both members must register together under one login and payment must be made with one credit card.
FREE CLE CERTIFICATES
Free CLE Certificates do not apply to the convention.
FAIRBANKS AREA RESTAURANT LIST
As a reminder, lunch will be on your own for the convention.  To help you find lunch places we have created this Fairbanks Area Restaurant List.
HOTEL
A block of rooms has been reserved at the Westmark Fairbanks Hotel & Conference Center, 813 Noble Street, Fairbanks, AK  99701. Make your reservations online at www.westmarkhotels.com using group code: AKBAR1.  Room rates are $159 per night for a standard room. Reservations must be made by August 2, 2023 or until sold out to get the group rate.
MEETING SITE
Convention registration, CLE programs, and Awards reception will be held at the Westmark Fairbanks Hotel & Conference Center.
Wednesday's Opening Welcome Reception will be held at Venue, 519 1st Ave, Fairbanks, AK 99701.
AIR TRAVEL TO THE CONVENTION
Alaska Airlines has provided a 7% discount on all travel to Fairbanks between September 17 and September 25, 2023.  Make your reservation online at www.alaskaair.com and provide discount code ECME805.
CAR RENTAL
Avis provides Alaska Bar Association members attending the annual convention with a discount program available at Avis Alaska airport rental locations. Go to https://reservations.avisalaska.com enter "akbar" for your "Corp Discount Code" and special rates will be quoted for each vehicle offered. A valid driver's license and major credit card in renter's name is required.
"Angle Rocks" by Linda Wies
Linda Wies is a Fairbanks based printmaker. She ventured into the world of art after moving to Alaska, where she had the opportunity to take classes from Gail Priday, Karina Gomez and David Mollet. During this time, she developed a passion for printmaking and spent a few years taking single credit UAF art classes, giving her access to a large printmaking studio. In 2020, she took a leap and purchased an etching press and set up a studio space at her home on Chena Ridge, which is now primarily where she works.
Linda's work is largely focused on creating multi block relief prints. She hand carves linocuts and woodblocks which are individually inked and rolled through an etching press. She also carves solid wood pieces that are hand painted with Indian inks. Her process consists of sketching an image onto the wood carving, painting, and carving again until she has a finished piece- which is often a springboard to future relief prints. The subjects of Linda's work are typically found in the forest around her home; fungi and lichen, ravens and sandhill cranes, and berries and flowers are all reoccurring images in her art. Linda attends local festivals where she does on-demand printmaking and teaching others how to print on recycled tee shirts.
ALPS – Sponsoring the Keynote Presentation Makin' Cake CLE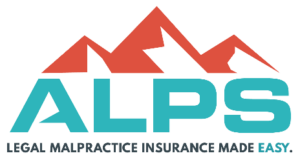 As the Alaska Bar Association's endorsed carrier, ALPS understands how valuable your time is. ALPS offers comprehensive malpractice and business insurance solutions making it easy for you to protect your entire firm. Their malpractice insurance application is flexible, easy, and 100% online – apply, review your quote, accept and pay in as little as 10 minutes.

For more, visit www.alpsinsurance.com/alaska
CLIO – Sponsoring the Awards Reception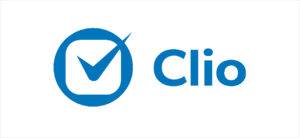 Clio is the world's leading cloud-based legal software platform that prides itself in simplifying operations, growing businesses, and allowing legal professionals like you to work remotely from anywhere. Let Clio focus on the business side of running your firm while you spend more time doing what you do best — practicing law. Learn more at www.clio.com.
https://www.clio.com/partnerships/bar-associations/the-alaska-bar-association/

Visit Clio's exhibitor booth at the convention.
LANDYE BENNETT BLUMSTEIN, LLP – Sponsoring the Opening Welcome Reception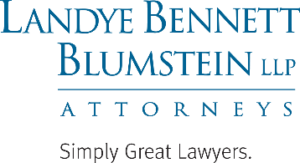 Our growth and success are grounded in a firm culture committed to providing exceptional legal representation, advice and advocacy that is practical and laser-focused on the needs and objectives of our clients. This commitment has driven us to the leadership position we occupy today in Alaska's unique legal environment of many specialized practice areas including Alaska Native law, real estate, utilities, municipal law, environmental law and banking.
lbblawyers.com
THOMPSON LAW GROUP – Sponsoring the U.S. Supreme Court Opinions Update program

The Thompson Law Group is a boutique law firm specializing in matters ranging from family law, criminal, collections, small claims, evictions, civil disputes, corporate, and more. thompsonlawak.com/
CARLSON LAW GROUP, LLC – Sponsoring the Legal Landscape for Alaska's Alcoholic Beverage and Marijuana Licensees: The Top Challenges for 2023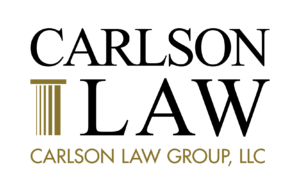 Carlson Law Group, LLC is a full-service litigation firm that focuses on providing legal solutions for everyday people.  Our team members specialize in all aspects of military law, criminal defense, Alcohol and Marijuana Licensing, family litigation and mediation, and employment litigation matters. bcarlsonlaw.com
VLEX

vLex, which now incorporates the renowned Fastcase, Docket Alarm, and NextChapter brands, is a multi-award-winning technology provider and home of the largest legal and regulatory information database in the world. Trusted by over two million lawyers, researchers, government departments, and law schools, vLex offers comprehensive and intuitive access to the law in over 200 jurisdictions through an intelligent, AI-powered legal research platform.
vlex.com
Visit vLex's exhibitor booth at the convention.
SHAFTEL DELMAN, LLC – Sponsoring the Federal & State Courts Update CLE
We are a unique Alaska law firm. Our practice emphasizes estate planning, estate and trust administration, small business formation, and tax planning for businesses. We also provide estate planning services to non-residents of Alaska who are interested in Alaska's new estate planning approaches.
Shaftellaw.com
Interested in Sponsoring? Please contact Lynn Whittingham, CLE Coordinator @ 907-263-1835 or lynn@alaskabar.org. Click here for more information.