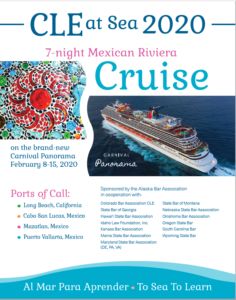 2020 CLE at Sea – 7-night Mexican Riviera Cruise
February 8-15, 2020
Cruise, Airfare, and CLE priced separately
---
Book your cabin online or call Rusty Pettit at 1-412-770-6511
Book your airfare on your own or Rusty may assist you.
Register for the CLE Sessions $495 |After Nov. 1: $595 – Fee for

non-attorneys

is $295 | After Nov. 1 $395
Suggestions for hotels near the Long Beach port are coming soon.
CLE schedule has not been determined. Programs will be held while ship is at sea on Sunday, Thursday, and Friday.
Learn How to Swim Like a Tax Shark
1.5 hours
Presented by Christy Lee
Drowning in tax issues related to your law practice? This course focuses on turning you into a tax shark, one who manages your law firm as a bona fide moneymaking enterprise. You'll bite into proactive strategies that can minimize tax liability while helping to audit-proof your business. And you'll discover how to maximize your chances for financial success.
Keeping Your Head Above Water
3.0 hours
Presented by Bar Counsel, Nelson Page
Nelson Page will discuss the ethics and practice issues that the modern lawyer needs to be aware of to stay out of trouble and be successful. Topics will include the continuing evolution of the practice of law and the delivery of legal services, Technology challenges in the practice of law, lawyer wellness and its impact on the profession, and the evolution of ethical rules regarding discovery, conflicts, and attorney marketing.
"In the Matter of ": Navigating Family Dynamics in Probates and Heirs' Property Issues
2.0 hours
Presented by D. Hope Watson and C. Renee Gregory
Many probate and heirs' property resolutions depend on the heirs' defining and reaching agreements with each other concerning the current and future ownership and use of the land and its other related resources. Navigating that agreement can be a very delicate process. "In the Matter of" will explore those processes and mediation opportunities. Inherently, the discussion will include determining who is the client and the beneficiaries of any proposed legal action.
Waves of Wellness: Learning Techniques that Reduce Stress and Anxiety
1.5 hours
Presented by Nancy Nolin
This workshop will focus on tools in reshaping and enhancing your management of stressful situations. Cognitive and Mindfulness techniques, as well as the art of play, will be demonstrated in supporting "waves" of Wellness.
Winning from the Beginning; Opening Statements
2.0 hours
Presented by M. Shane Henry
This presentation covers Techniques, Tips and Trial hacks for successful Opening Statements. Discussion includes persuasive techniques, structure and body movement. The goal is for Trial Lawyers to create the framework during Opening Statement through which the fact finder will view the entire case. Making the best first impression possible leads to positive verdicts.
Trial Techniques: The Language of Trial
2.0 hours
Presented by M. Shane Henry
This presentation covers the fundamental elements of Trial from Jury Selection through Closing Argument. Each phase of Trial is covered with discussion of the techniques pertainingto each. The goal is the development of a baseline knowledge of the techniques and skills essential to the successful presentation of a case. Topics covered will range from basic fundamentals through through persuasion techniques. Speaking the Language of Trial allows connection with the fact finder during each phase of Trial.
For more information, contact Lori Brownlee, CLE Director at 907.263.1841 or lori@alaskabar.org